TESTIMONIALS
WHAT OUR CUSTOMERS ARE SAYING
The open pollinated is good stuff. It stood very well. We liked it better than hybrids. We saw 130 bu easy and it wasn't the best land. Did excellent in dry weather. The protein is really good and the test weight in really high.
George Rupp
Chillicothe, MO
We got 125 - 135 bu with our Wapsie and Ried.
The Wapsie was better than any short season hybrid I've grown. Nice ears and stalk. Stood well. We are now saving our own seed.
John Hartrandft
Bemville, PA
We really like the Wapsie and the Kucyk. Good stalk and nice ears. I've raised corn for 15 years and this is the best we have had. Good healthy root system and nice wide leaves.
Paul Howard
Charleston, NH
We dropped our input costs for our hogs $25/head after using open pollinated corn.
Chris Bonnett
Centerville, IA
Terrific! the Wapsie was 10' tall or better, thick heavy plants and nice ears.
Debra McGovern
Ft. Plain, NY
When we ran out of the open pollinated corn silage, we dropped in milk (production). We tested the Wapsie and found 2 points higher protein.
Edwin Martin
Penn Yan, NY
We had the open pollinated corn tested and found 2 full points higher protein than the average hybrid in our area. For example, if the average hybrid was 8 points, the open pollinated would be 10 points. That's a full 25% increase in protein! Even though we had less pounds of yield per acre, we produced more pounds of pork per acre.
We planted Green Haven's "J" Reid right next to high dollar hybrid. It was just as good. I had a neighbor see Wapsie Valley. He couldn't believe corn could do that well in organic conditions. We are planting all open pollinated corn next year!
Jim Buckley
Hoosick Falls, NY
We had 89% conception rates on the first service across the whole herd while feeding open pollinated corn silage. We feel the better nutrition of the open pollinated corn the reason for the success.
Steve Sevcik
Kewaunee, WI
We found higher TDN in the open pollinated corn over hybrid.
My beef cattle eat more aggressively when I feed open pollinated corn.
Corn growers are rediscovering a host of benefits from growing up to date selections of open pollinated corn. The reason these open pollinated varieties are so reliable is because they have stood the test of time. Our farmers in the field will attest to their success.
It is understood that stalk length and yield is lower in open pollinated corn. We speculate that this is one of the reasons why we are seeing higher nutrition numbers. Our goal has been to select corn that will stand to harvest, and yield well while providing higher nutrition. We are accomplishing that goal!
Our open pollinated varieties have improved standability and yield well.
We are seeing 10-25% higher proteins than average and test weights in our open pollinated corn versus standard, high-dollar hybrids.
The majority of customers randomly surveyed who are feeding open pollinated corn to animals testified to a noticed increase palatability of O.P. over standard hybrid.
We offer certified, organically grown seed (in limited supply)
We specialize in high producing, shorter day corn. Our location in the northeast at a higher elevation drives us to be sensitive to the needs of farmers with a short growing season.
Wildlife specialists are finding open pollinated corn a food of choice in their feed plots. especially for whitetail deer. Animals seem to know good nutrition when they taste it!
I was surprised at how much of the plant the deer ate. The Wapsie did exactly what I wanted. I was pleased with the stalk strength.
Rodney Trzil
Chesaning, MI
We grew one open pollinated corn and one hybrid corn food plant. They cleaned up the open pollinated corn before they ate the hybrid.
Theodore Kjaersted
Quin, SD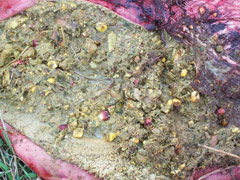 Notice the red kernels. This deer gut shows that although this deer had the option for many other crops in his radius, he chose to eat the OP corn.